Got about an Hour? Get a Brighter, Whiter Smile.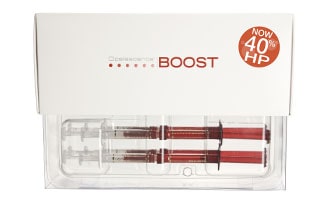 Typical over the counter (OTC) whitening systems have around 6% Hydrogen Peroxide as their active ingredient. This system uses 40% Hydrogen Peroxide and can give you that jump start into whitening that you are looking for! You will get the best of our two top systems as we start the process here in our office and then you continue it in a take-home tooth whitening tray system.
Incredibly fast whitening
Minimal tooth sensitivity
No hot lamps or lights needed
Blends the best of In-Office whitening with the convenience of a Take-Home tray system.
OpalescenceTM Boost is an advanced tooth whitening chemistry which will quickly, safely and effectively whiten your smile.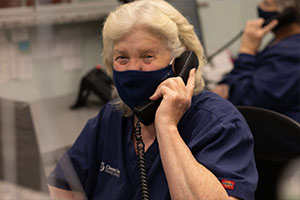 It is a two component/ two-phase tooth whitening system. The luer lock dual chamber syringe mixes a Cool Mint flavored gel with an activator formula precisely at the time of application.

The resulting blend is a revolutionary whitener that produces beautiful whiter teeth in just four to six 15 minute applications here in our office! While we whiten your teeth in the dental chair, we will be making custom trays for you to take home for the second phase of your process.

When you leave our office, you will take home your comfortable and inconspicuous home-whitening trays along with enough whitening gel to last until your next visit. At that appointment, we will check your progress and dispense more gel. Most patients complete the whitening process in as little as three weeks.

Unlike conventional overnight take-home whitening systems that may require up to eight hours of wear time, Opalescence™ Boost achieves the same results in only 30 minutes ONE TIME a day!

It's safe. It's Effective. And it's so fast, most of the users see immediate results. So does everyone around them!
Book My Appointment
610-431-0600