West Chester, PA Dental Office Financial Policy
Financial Policy
Thank you again for visiting our website and learning more about our practice and our policies. At Chester County Family Dentistry, we want you to become a patient of ours for many years to come. We understand that many patients have questions about how they are going to pay for their dental care. Please read the following and then contact us if you have any questions.
Get Started
Patients With Insurance Coverage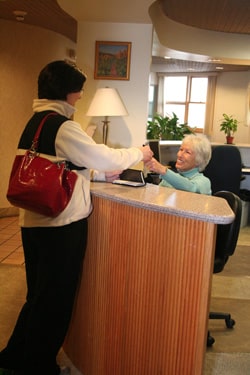 We are an out-of-network provider. You will not find our practice on any insurance company's list of dentists that are contracted as "in-network providers". This means that you are responsible for all fees charged for all dental services provided. However, this does not mean that your insurance company will not help you pay for covered services in our office. You must first check with your insurance provider to see if you can see an out-of-network provider.
If your carrier is Delta, United Concordia, or Blue Cross/Blue Shield, you are responsible for payment of services to our office at the time of treatment. We will be happy to submit your insurance claim, and reimbursement will be mailed directly to you, as the subscriber.

If your insurance carrier is Aetna, Met Life, Guardian, Cigna Dental, United Healthcare (to name a few), we will be happy to submit your insurance claim at date of service. Insurance payment will be made to our office and, upon receipt, we will bill you for any difference between our fee(s) and what we receive from the insurance company.
We will be happy to help you process your insurance claim form for your reimbursement. Since we do not participate with any insurance plans, our financial contract is with you, our patient. It is important to understand that dental insurance is designed to reduce cost, not to eliminate it entirely.

We must emphasize that as dental care providers, our relationship is with you, not your insurance company. While the filing of insurance claims is a courtesy that we extend to our patients, all charges are your responsibility from the date that services are rendered.
Ask A Question
Patients Without Insurance Coverage
Patients without insurance coverage are requested to pay for services as rendered or as agreed upon with our financial coordinators. For those age 65 year and older, we are happy to provide a 5% senior discount. All you need to do is ask!

At Chester County Family Dentistry, we strive to make your dental care affordable by offering 3, 6 and 12 month financing through Care Credit.

CareCredit gives you the freedom to start your dental treatment whenever you're ready. It's easy to apply. With three simple steps, including an instant approval process, you can say goodbye to the waiting time and reward yourself sooner.

CareCredit offers you No Interest and Low Monthly payment options for the dental procedures you want and need. You pay no up-front costs, no annual fees and incur no pre-payment penalties. We generally reserve providing CareCredit to our patient with extensive dental needs rather than for cleanings and smaller dental procedures but please ask us at your next visit if this service is something that could benefit you and your family!

If you have any questions or are interested in financing please contact us for more information.
Book My Appointment
610-431-0600