Everything You Need to Know About Laser Dentistry
Introduction to Laser Dentistry in West Chester, PA
Embracing the latest technologies and dental approaches is a top priority at Chester County Family Dentistry. That's why we're happy to offer our patients WaterLase laser dentistry services. Studies have demonstrated that dental laser procedures are some of the most effective means of cleaning the teeth, addressing periodontal conditions, carrying out dental surgical procedures and maximizing the overall comfort of dental patients.
Get Started
What Is Laser Dentistry and How Does It Work?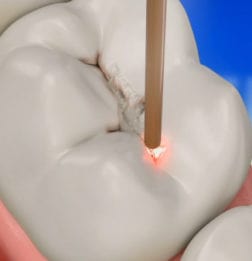 One of the major benefits of laser dentistry is that it can address both teeth and gum tissues in the mouth. As a result, applications like WaterLase dentistry can perform a diverse range of treatments and services, including:
Removal of excess gum tissue
Elimination of excess tissue and growths such as papillomas and fibromas
Prevention of gum recession by removing muscle-pulls (frenectomies)
Correction of tongue-ties
Repair of periodontal disease (gum disease)
One study confirmed that dental laser technology is particularly efficient in killing bacteria that hides between teeth and beneath gums—an important distinction in light of current periodontal statistics.

Did you know that, according to the Centers for Disease Control, 64.7 million American adults reported experiencing mild, moderate or severe periodontitis? The CDC study attributed the high prevalence of periodontal disease to a lack of thorough examination. Since periodontitis can be relegated to certain areas rather than evenly distributed, it can be hard to detect and treat, making the precision of laser dentistry that much more valuable.

At CCFD, Dr. Dave and Dr. Ryan routinely utilize the precise dental capabilities of the WaterLase iPlus and WaterLase Epic X lasers to treat periodontal disease and much more. Both devices use focused laser-light energy combined with a stream of water to target specific dental areas in need of cleaning, repair or treatment. Both the WaterLase iPlus and WaterLase Epic X devices work similarly, with only subtle differences:
WaterLase iPlus

Dentists are able to select from 80 different settings to treat soft tissue, hard tissue and even bone. Because of its high versatility, the WaterLase iPlus is the best-selling "all-tissue" laser device on the market. It also eliminates the need for more archaic dental tools like drills and needles. Very few dentists in the local area have one of these special lasers.

WaterLase Epic X

WaterLase Epic X utilizes diode laser technology as a solid state semiconductor to produce laser wavelengths particularly effective in addressing aesthetics. In addition to gingival recontouring, WaterLase Epic X can also be used for teeth whitening and to help reduce pain associated with TMJ or other thermomandibular disorders.
Ask the Experts
Benefits of Laser Dentistry
In addition to the varying, comprehensive procedures laser dental treatments address, WaterLase devices offer dentists and patients multiple benefits. Laser dental devices allow dentists to work much more quickly and efficiently, especially for surgical procedures.

Here are some of the many WaterLase dentistry benefits enjoyed by our CCFD patients:
Less Time in the Chair

As a result of offering Dr. Dave and Dr. Ryan multiple presets to work faster and more effectively, the outcome leads to less time patients have to spend in the dental chair. Many patients can't believe that their procedure is done in just a few minutes!
More Comfort

Compared with the dental drill and/or needles, the gentle spray of water produced by a WaterLase device doesn't impose any heat or vibration. As a result of the less invasive technique provided through dental laser therapy, the need for anesthesia is reduced or eliminated! This means no pain, grogginess or waiting for numbing to dissipate.
Greater Convenience and Time Savings

WaterLase iPlus and WaterLase Epic X are so efficient that a procedure typically requiring more than one visit may be condensed into a single treatment. Additionally, because the need for anesthesia is often removed, there's no need to remain in the dental office for monitoring.
Better Precision—Less Likelihood for Problems

Sadly, the dental drill can lead to issues like micro-fractures in the teeth or other similar problems. The precision of laser-dental technology helps alleviate these issues. The likelihood of keeping the integrity of healthy teeth intact is significantly greater with the use of WaterLase iPlus and WaterLase Epic X versus the dental drill. Plus, laser dentistry can better target hard-to-reach bacteria caught in between teeth and beneath gums.
Quicker Recovery and a Brighter Smile

Laser dentistry provides a more rapid recovery time on procedures, including surgical processes. Even WaterLase Epic X teeth whitening takes less time than traditional teeth whitening with trays (typically 60 minutes or less per session)!
It's important to note that while laser dentistry is clearly invaluable in treating a number of conditions safely, comfortably and more conveniently, to maintain healthy results, it's advisable for patients to practice best oral hygiene habits. During your dental laser treatment, our CCFD hygienists can help provide you with dental hygiene tips to maximize the results of your laser treatment.
Are You a Candidate for Laser Dentistry?
Another important benefit of laser dentistry is that there are few to no risks or side effects. WaterLase dental procedures are so safe, in fact, that they can be applied to children for many dental issues, including fillings, sealants, pulpotomies and frenectomies.

To know for sure if you qualify for laser dentistry services, it's best to set up a consultation with Dr. Montgomery and Dr. Dunn. During your exam, the condition of your teeth, gums and mouth will be evaluated. You may be asked to share your current and past medical and dental history. You'll also have an opportunity to share any questions or concerns you might have.

If you'd like to learn more about laser dentistry, have an aesthetic issue you feel would benefit from laser dentistry, or have another issue mentioned above that could benefit from dental laser treatment, please contact us today
Book My Appointment
610-431-0600