Discover Your Best Option for Teeth Whitening in 19382
You may be completely unhappy with the look of your smile, but don't think for a minute that you're alone. As a matter of fact, research has shown that time and time again, one of the primary cosmetic features that people would change about themselves is their teeth. Whether your teeth are chipped, crooked or gapped, there are cosmetic dentistry solutions for each of these issues. And now, thanks to advancements in modern dentistry, teeth whitening in 19382 is also easier than ever!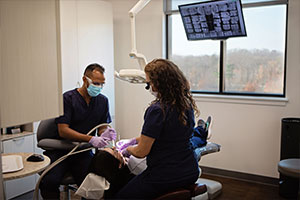 West Chester area residents looking for top notch teeth whitening services are in luck! Your local dental provider, Chester County Family Dentistry, is the perfect place to have your smile perfected. We use the White Done RightTM system to provide our patients with the best quality and more flexible options when it comes to having teeth whitening in 19382.

In fact, there are three different levels of treatment that our clients can choose from, depending on their need. For quick, one-time whitening boosters, we offer the Opalescence Boost. However, we also offer gel trays and our popular Opalescence Treswhite Supreme service as well, so be sure to ask about all of your options when you come in to see us!

If you've been frustrated with your attempts with at-home tooth whitening in the past, put the days of ineffective, messy products behind you. Those special toothpastes and store bought trays are not approved by the American Dental Association and are generally ineffective. Stop wasting your money on products that can't give you the whitening solution you want, and come back a worthwhile investment with us for real, quality teeth whitening in 19382. You'll walk away glad you came, happy with the results and feeling better about your smile. And that's what it's all about! Call 610-431-0600 to schedule an appointment.
Book My Appointment
610-431-0600