Root Canal in West Chester
The Right Place for a Root Canal in West Chester
If you've experienced prolonged tooth pain and sensitivity along with tenderness to the gums; this could be an indication you need a root canal.
Get Started
Discover the Best Place for a Root Canal in West Chester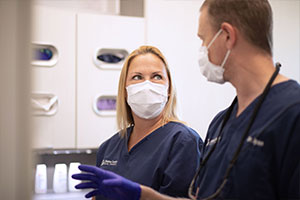 When most people hear the term root canal, the first question they usually ask is: "Does a root canal hurt?". However, most people who have had the procedure done will tell you that they experienced little to no pain.

If you think that you may be in need of a root canal in West Chester Pennsylvania, we suggest Chester County Family Dentistry? We are conveniently located in the heart of the bustling West Chester, Pennsylvania, right down the road from the Chester County Hospital.

Our dentists and staff are not only experienced and licensed in the dentistry field, they keep your comfort as one of their top priorities. We know that finding a dentist who is certified and licensed is a key factor in choosing a dental practice. However, we also know that some dentists and health professionals lose sight of the importance of a reciprocal dentist-patient relationship.

Anyone might be able to study and go to school to become a dentist, but it takes a compassionate and understanding person to understand the needs of each patient as an individual. People already have anxiety when it comes to the dentist, they don't need their dentist to compound that anxiety with an inability to listen to the patient. Our team, led by Dr. Montgomery and Dr. Dunn, will make sure that whether you are in need of a dental check-up or a root canal in West Chester, your questions and concerns will always be heard.
Ask the Experts
Stress and Pain-free Root Canal In West Chester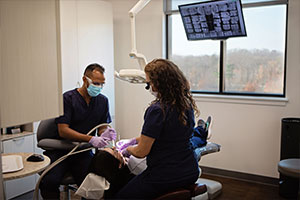 At CCFD, we understand any reservations you might have, especially when it comes to undergoing the root canal procedure. As we discuss the details of the procedure with you, we will gladly answer any questions and concerns you might have. Prior to the procedure, we'll make sure you understand what will happen during each step, including possible side effects and the recovery process.

While it's natural to feel anxious, we also offer additional stress-free methods for dental procedures to put you at ease. At our office, you will find:
We use calming nitrous oxide to make procedures stress-free
Calming music
Free Internet
Caring staff to comfort you
If you want a stress and pain-free root canal in West Chester, give us a call today.
Book My Appointment
610-431-0600