West Chester Digital X-Ray
Offering NASA-Level Innovation in Digital Dental X-Rays
What could digital dental X-rays and NASA possibly have in common? Believe it or not, the sensors within our digital X-rays at Chester County Family Dentistry were originally developed by NASA. These metal oxide semiconductor (CMO) sensors are what make digital imaging possible. It's this type of innovation that helps our dentists practice preventative dentistry and create personalized treatment plans. At CCFD we are proud to provide safe, patient-centered, and advanced dental practices for all our patients.

Find out why we are the local, convenient, and trusted source for adult and kids dental X-ray services.
Get Started
CCFD: The Trusted Source for West Chester Dental X-Rays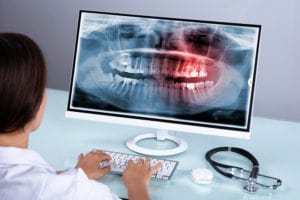 The CMO dental X-ray sensor chip, courtesy of NASA, makes it possible for digital imaging devices to be much smaller than before. The smaller the imaging device, the easier it can fit into the mouth for taking pictures of the patient's teeth. It also means that CCFD patients benefit from reduced radiation exposure. Every precaution is taken to ensure that our patients' exposure to radiation during dental treatments is as low as possible. Dental x-rays impart much lower doses of radiation when compared with many common medical radiographic procedures.

We strictly follow the ALARA principle (As Low As Reasonably Achievable) when it comes to digital X-rays. This means that we utilize additional protective measures when needed, such as a thyroid collar and/or lead apron to shield the thyroid and abdomen.

In addition to offering patients a safer option in terms of radiation exposure, digital dental X-rays offer more benefits. Digital intraoral X-rays help your dentist offer preventative oral health care and precision diagnosis.
Ask the Experts
Stopping Dental Issues Before They Can Start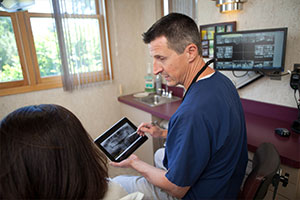 Digital X-rays allow your dentist a thorough and complete view of your teeth, gums, and jaw. This means that Dr. David Montgomery and Dr. Ryan Dunn are able to spot several dental issues before they become more serious. Digital dental X-rays can enable your dentist to:
Detect the presence of newly developing cavities
Identify the early stages of gum disease
See signs of bone loss in the jaw
Track the progress and changes in children's jaw and teeth development
Diagnose other types of oral health issues
Another advantage of our dental office utilizing digital dental X-rays is that unlike other more primitive types of X-Rays, which depend on processing X-ray film, digital X-rays are processed immediately. Dr. Montgomery and Dr. Dunn are able to provide a quicker diagnosis, making it much more convenient for patients with busy schedules (and/or little ones)!
Who Needs to Have Digital X-Rays Taken?
Because of the multiple benefits that digital X-rays offer both dentists and patients, they are usually used for new patients. This helps provide a baseline for your dental care and a foundation for your dentist to build upon for future visits. Children may also require more X-rays than adults. This is because the transition from developing baby teeth—starting around six months—to losing them and gaining permanent teeth, lasts years (most permanent teeth conclude eruption by age 21).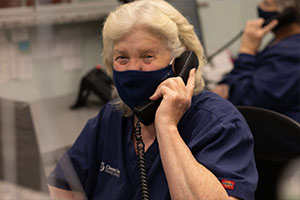 Digital X-rays may also be taken for those who are experiencing a dental problem and require diagnosis to confirm the need for a specific dental treatment.
The CCFD Difference
Just as we are committed to the safety and comfort of our patients, we also strive to provide convenience and evidence-based treatments. In addition to digital X-rays, we offer laser dentistry and mercury-free dental services. It's for these services (and more), our professional and friendly team, and our inviting atmosphere that CCFD is the choice of dentistry in West Chester (and beyond).

To schedule an appointment or, for any questions call one of our CCFD team members today.
Book My Appointment
610-431-0600