Why Choose Us for a Dental Implant in West Chester?
Choose CCFD for Dental Implants in West Chester, PA
Chester County Family Dentistry has been providing quality dental care and has built an outstanding reputation within the community. We are your trusted dentist, especially for a dental implant in West Chester. You won't be afraid, stressed or uncomfortable when you in our office and under our care.

We completely understand how most "dentist visits" are and we are 100% committed to ensuring your dentist visit isn't "one of those". Everyone is treated as though they are family, we keep your information private, provide a relaxed and fun atmosphere so you are stress and anxiety free!
Get Started
What Do You Need to Know About a Dental Implant in West Chester?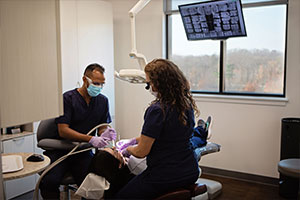 There are some questions that need to be asked before you should consider getting a dental implant. Let's go over some key questions below to make sure you ask the right questions to your dentist before making any decisions.
Are you a candidate for a dental implant? Well, have you lost any teeth; are you in generally good health; and do you have any conditions or diseases that could affect the implant from fusing with with bone?
What are my options for a dental implant? There are several different types of implants available so make sure you discuss all options with your dentist. Most popular dental implants are single-tooth replacement, fixed multiple tooth replacement, and removable implant-supported tooth replacement.
What maintenance is required for a dental implant? Good oral hygiene is always important – brushing, mouthwash, flossing and routine check-ups with your dentist to ensure you implants are functioning appropriately.
How is the implant placed? The surgery consists of carving out a channel so the implant can be placed in close contact with the other teeth. The surgery isn't complete until 2 to 6 months later when the restorations can be attached to the fused tooth.
Who places the implants? There is a team of dental professionals that work together to complete the dental implant process including a periodontist (the implant surgeon), a restorative dentist (places the tooth) and a dental technician (fabricates the tooth).
Ask the Experts
Did you know this about dental implants?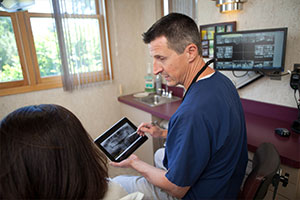 Dental implants are made out of the same material that NASA uses to build space shuttles, rockets, and guided missiles. Why are they made out of the same materials NASA uses? Because Titanium and Titanium Alloy are stronger and lighter than steel so your implants will last your lifetime, whether you get one a 18 or 87!

So if you're ready to talk to a friendly and knowledgeable dentist about getting a dental implant in West Chester, then call us today! We have a wonderful staff who will make you comfortable throughout the entire process – the consultation, the surgery and the recovery. "It's like we are visiting with old friends", one client says. Please contact us today to meet a new friend who will also provide you with the best dental care around!
Book My Appointment
610-431-0600