Dental Implant in Downingtown, PA
Get A Quality Dental Implant in Downingtown, PA
In need of a dental implant in Downingtown PA? Dental implants are nothing to mess around with, and you want to be sure you are getting the highest quality care for your oral health.
Get Started
Why are dental implants so important?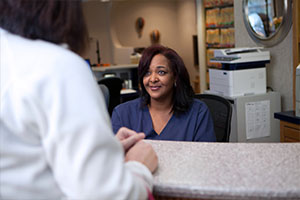 If you have lost one or more teeth due to injury or disease, your dental health provider may suggest that you get a dental implant. Dental implants are just what they sound like: prosthetic teeth that are implanted into or onto the jawbone to replace the missing teeth. These implants require more invasive care than is normally performed at a dentist's office, which is why you must take care in choosing the best oral surgeon Downingtown PA area has to offer.

Chester County Family Dentistry, a fifteen minute drive from Downingtown, offers a variety of services for the dental health of your family, including dental implants. Why is our team qualified to provide you with quality dental implants?

At Chester County Family Dentistry, David J. Montgomery, D.D.S., studied to be a doctor of dental surgery, during which time he received awards for his work in both periodontics and general dentistry. For the past 10 years he has been chosen by his peers for Main Line Today Magazine's 'Top Dentists," and is currently pursuing a Fellowship in the Academy of General Dentistry.

Dr. David and the staff at Chester County Family Dentistry is committed to making you feel comfortable, which begins with knowing that you are in qualified hands. If you are in need of a dental implant in Downingtown PA, there is no better place to look than Chester County Family Dentistry.

To inquire about our dental implant services or to request an appointment, simply fill out our online form. We will answer you shortly regarding your request.

We can't wait to work with you to improve your overall dental health and smile!
Book My Appointment
610-431-0600