Quality, Professional Cosmetic Dentistry in West Chester
Introduction to Cosmetic Dentistry
There is more to cosmetic dentistry than producing beautiful smile makeovers. While transforming your smile certainly happens to be one facet of cosmetic dentistry, cosmetic dentistry procedures can also help improve the health and functionality of your teeth and jaw. And, by helping to repair crooked, misshapen, missing, and discolored teeth, cosmetic dentistry also helps to boost self-esteem and encourage confidence.

If you've been searching for cosmetic dentistry near me, Chester County Family Dentistry offers a variety of high-quality, innovative cosmetic dental procedures.
Get Started
CCFD Cosmetic Dentistry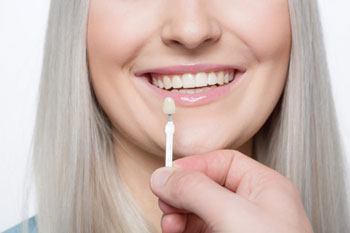 As dental knowledge and technology have progressed, cosmetic dental care options have likewise expanded. Dr. David Montgomery and Dr. Ryan Dunn have combined decades of knowledge and experience enabling them to offer local patients a wide variety of cosmetic dentistry services, which include:
Dental Implants

When a person loses one or multiple teeth, dental implants are surgically-placed into the vacant spaces to allow matching replacement teeth to be attached. Since dental implants are a long-term dental option, they are also often a cost-effective investment.

Inlays and Onlays

Made out of composite resin material or porcelain, inlays and onlays are used for slightly decayed teeth that no longer have the structure needed for regular fillings. Inlays are affixed to the tooth's surface once the decay has been removed. Onlays are placed on the whole tooth when a larger part of the tooth is corroded.

Early and Adult Orthodontics

Children whose teeth and jaw are still developing, as well as adults with all of their permanent teeth, can receive various, customizable orthodontic treatments. Braces, retainers, and Invisalign (plastic aligners) are all cosmetic dentistry options that can help straighten crooked teeth, improve gaps in between the teeth, and improve jaw alignment.

Teeth Whitening

At CCFD, Dr. Montgomery and Dr. Dunn use Opalescence™ teeth whitening systems to help whiten and brighten teeth. Teeth whitening can take years of discoloration off your natural teeth with long-lasting results. For ultimate convenience, we offer in-office treatments as well as take-home teeth-whitening trays.

Porcelain Veneers

Made for patients with damaged teeth, dental veneers are affixed to the front of the tooth with a special adhesive. Like implants, veneers are made to blend in with your natural teeth. Porcelain veneers are also long-lasting solutions, providing you with a beautiful smile for years to come.
Ask the Experts
Benefits Of Cosmetic Dentistry
In addition to improving your smile and boosting confidence, cosmetic dentistry restores functionality for optimal dental health. Missing and damaged teeth not only affect how you speak, chew, and smile — they can potentially lead to more serious health problems.
Receive the Best Cosmetic Dentistry in West Chester, PA
Along with being trusted professionals in providing quality, cosmetic dental care, we also offer our patients a host of additional advantages.

Take a look at what makes CCFD the preferred and trusted dental office in West Chester, PA:
Family Atmosphere

Dr. Montgomery, Dr. Dunn, and the entire CCFD team are committed to treating every patient who visits our office as a member of our dental family.

Education as a Foundation

At CCFD, helping to maximize your oral health and overall wellbeing is a top priority. During each visit, we walk you through every step of your procedure. We want our patients to be well informed of what's to come, and we encourage our patients to ask us questions!

Dedication to Comfort

Our compassionate, friendly staff and calming environment invite a stress-free experience for the entire family — whether you are in the dental chair or waiting for a family member during a dental procedure.

Quality and Affordability

High-quality dentistry and orthodontics does not have to be expensive. At CCFD, we work with your insurance policy as well as provide flexible payment options that fit your budget.

Convenience and Flexibility

Located on the grounds of Chester County Hospital, we are easy to find from just about anywhere in the Greater West Chester area. We also offer flexible appointment opportunities. This includes early morning hours before work and school as well as evening appointments, Monday through Friday. We even have dental visit availability on Saturdays.
To find out more about CCFD's cosmetic dentistry options, schedule an appointment now. Or, if you have any questions, call one of our friendly, professional CCFD team members today!
Book My Appointment
610-431-0600