Your Dental Office in Exton, PA
Exton, PA Patients Trust CCFD because we care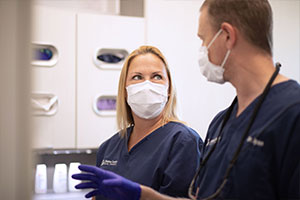 Did you know that over 70% of Americans would rather go grocery shopping than floss their teeth? As a quality dental office Exton PA locals trust, we always encourage our patients to brush their teeth regularly. But you can't stop there – your toothbrush doesn't reach every area in your mouth. Floss can get the plaque that likes to build up in between your teeth. Studies have shown that brushing only reaches 60% of the plaque buildup in your mouth, but flossing can get the other 40%. Flossing is the only thing that can really get in the crooks and crannies and clean your mouth thoroughly.

Some patients have asked us at our dental office in Exton PA what we think about electric toothbrushes vs. manual toothbrushes. Either kind is an excellent choice for dental hygiene. Manual toothbrushes do just as good of a job cleaning your teeth as powered ones do. Some kids get excited by powered toothbrushes and so it can help them start brushing their teeth regularly early on. However, if you have a very sensitive mouth, the vibrations of the powered toothbrush may be too much for you. No matter what you choose, it's more about how often you brush and how well you do.

To learn more about dental hygiene or to schedule your routine cleaning, contact our office today. We are currently accepting new patients. As a family friendly practice, we welcome all members of your family from the youngest to the oldest. Our team is able to treat a variety of dental issues and perform a wide variety of procedures so that you don't have to make appointments at different places. If you'd like to learn more about us, feel free to call our office with any questions you may have. This dental office Exton PA locals love also has a website with lots of helpful information. Check it out and read our blog while you're there!
Book My Appointment
610-431-0600