The One Dental Office Exton Clients Love
CCFD and our Exton Dental Office Patients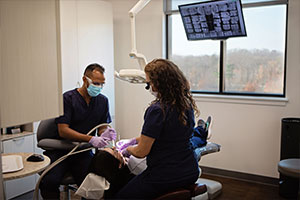 Maybe you have recently moved into the Exton area and are searching for the most quality dental office Exton has to offer. Or perhaps you have decided to switch dentists. Consider giving Chester County Family Dentistry the opportunity to become your Exton dentist of choice.

Perhaps you are wondering what makes Chester County Family Dentistry different than all the other local dentists. First of all, we understand that the doctor-patient relationship is extremely important. We know our job and we don't take it lightly. We have the privilege of caring for and maintaining your dental health, as well as providing education to you and your family. We are committed to patient education so this is a responsibility we take very seriously. Though we get to use all the fancy equipment and technology that our current age offers us, we never underestimate the significance of a personal relationship with all of our patients. We consider our practice to be the best dental office Exton has ever seen!

We recognize that our patients are often busy and overworked. So we have taken steps to make sure that our staff are always accommodating to your schedule. In the case of a dental emergency, we will see you right away. If you are a current patient of ours, you can rest assured that we will always be fair in replacing dental work or repairing it as needed.

If you're looking for a new dentist in the Exton area and you come visit us, you will soon understand why Chester County Family Dentistry is the greatest dental office Exton has to offer. We welcome local and non-local patients. Contact us now to discuss insurance options and payment plans if you are concerned about the cost of your dental care. We always offer the most affordable care that we can and our staff will work with you to come up with a solution that meets your needs. We look forward to working with you. Give us a call or stop in for a visit today!
Book My Appointment
610-431-0600