The Most Trusted Dentist West Chester PA Residents Agree
CCFD Trusted Dental Office in West Chester, PA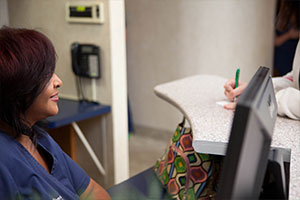 What does it take to be the most trusted dentist West Chester, PA has to offer? In addition to award-winning doctors and convenient facilities, it takes a high respect for the doctor-patient relationship and a dedication to maintaining it. More than just getting the job done, being a trusted dentist requires a respect for each and every patient's time, health, and family. Chester County Family Dentistry understands this, and their professional and personable approach to dentistry continually makes them stand out as the most trusted dentist West Chester, PA patients can turn to.

You and your family are busy. You don't need to spend time waiting around ten, fifteen, or more minutes after your scheduled appointment time when there are other places to be. Nor do you need to waste time driving from one location to another just to get two different dentistry services. Chester County Family Dentistry realizes this and has structured their office around respect for your and your family's time. Not only do they make it their goal to see each patient on time, but they also offer a wide range of services on-site so that you don't have to relocate for procedures like dental implants, teeth whitening, or the use of nitrous oxide.

Along with respect for your time, choosing a dentist to trust also calls for their dedication to your health. At Chester County Family Dentistry, the doctors continue to attend educational meetings so that they can provide you the most advanced dental procedures and services. Furthermore, the CCFD time believes that a friendly and instructive approach helps to ease your anxieties and allows you and your family to be more active participants in your own oral health.

Whether you are looking to book an appointment for yourself, your child, or another loved one, you can have confidence that Chester County Family Dentistry is the most trusted dentist West Chester, PA has to offer. Even while improving the health and appearance of your smile, they will work to ensure your visit in pleasant and comfortable from start to finish. For more information or to schedule an appointment, contact CCFD today!
Book My Appointment
610-431-0600