The Dentist West Chester PA Area Residents Trust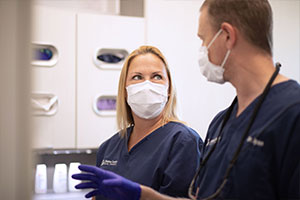 If you're looking for the best dentist West Chester PA has to offer and just don't know where to turn, come visit Chester County Family Dentistry. Our offices are located at 795 E. Marshall Street in West Chester and our doctors and their staff love meeting new patients. Here you will find everything you'd expect from a great dentist and much more. Our philosophy is to treat all of our patients like family and treat them with top quality care, give them the respect they deserve and take their time seriously. We know that getting to the dentist can sometimes be tough so we prioritize making appointments begin and end when they are supposed to.

Sometimes families can have a hard time finding a dentist they feel comfortable having every member see. You can rest assured that we want to make every family members' visits to us a positive experience and are equipped to treat all ages. Our dentists love seeing people smile just as much as they like improving people's smiles! You whole family will feel confident coming to visit our offices. We provide a friendly and reassuring atmosphere where patients can be at ease. All procedures are performed with the utmost care and attention to detail. We want our patients to be happy with the work as well as the service.

We pride ourselves on being a dentist West Chester PA residents trust and love. We truly enjoy what we do and feel the most satisfied when patients become friends and enjoy coming in for a visit. If you'd like check us out and see if we are a good fit for you and your family please call us today and one of our friendly receptionists will speak with you about scheduling your first appointment! Many appointments can be made for the near future and emergency visits can take place the day you call.
Book My Appointment
610-431-0600