The Dentist Exton Area Families Simply Love
CCFD treats Patients from Exton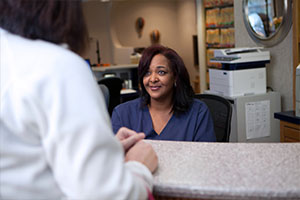 Whether you're new to the area or are just in need of a different dental provider, we'd be glad to welcome you to our nearby office! Local families know that when you're looking for the dentist Exton can rely on, you need to visit Chester County Family Dentistry. Once you experience our exceptional care for yourself, it won't be hard to see why we are a favorite in this local area. We are proud to provide outstanding care for all of our patients. No matter what procedures you need done, Chester County Family Dentistry will provide a calming, friendly atmosphere where you can be assured that you are receiving top quality, professional care.

Our dentists are continually expanding their skill sets and staying up to date on all of the latest technologies and procedures in their fields. They are dedicated to staying as current as possible for the sake of their patients' well being. You will find that our dentist Exton office is equipped with all the most cutting edge technology and the procedures we perform are done with precision and care. We strive to make all of our patients feel as comfortable as possible and we believe that a large part of achieving this goal lies in our priority on patient education. We work with patients to determine the best possible treatment plans and stay in honest communication with them all throughout the entire process.

Beyond general checkups and cleanings, our services include: cosmetic dentistry work, orthodontics, periodontics, denture replacement and fittings, x-rays and more. If you want your and your family's dental needs to be addressed by the best dentist Exton has to offer, look no further than Chester County Family Dentistry. To schedule an appointment or speak with a staff member regarding questions concerning our office hours, directions, procedures, policies, payment plans, etc. contact us today! We'd love to meet you and look forward to serving you for all of your dental needs.
Book My Appointment
610-431-0600