Dental Office West Goshen, PA
Receive Quality Care at Our Dental Office West Goshen PA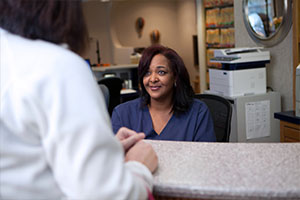 Choosing a dental provider for your family is a big job. Like a primary care physician, a dentist should be someone you feel comfortable with and can plan to see on a regular basis for years to come. They should be an experienced medical professional with a full, capable staff that is able to handle all of your client needs, properly manage your files and ensure that each of your visits to the dentist is a good one! Here at Chester County Family Dentistry, a local dental office West Goshen PA, we are committed to providing you with the kind of care you want and deserve.

We can be that dental provider that you've been looking for. In fact, we guarantee that when you stop by for a visit you'll be convinced that this is the place for you and your family. What will you find when you come to Chester County Family Dentistry? Well, first of all, you'll always be greeted by friendly, helpful staff members and you'll be treated with courtesy and respect. Next, you'll find that the facilities and equipment at this dental office West Goshen PA are pristine. We know how important cleanliness and sanitation is and that's why we either heat-sterilize our instruments or use disposable products.

We believe that the true test of a great dentist is whether his or her own family and friends come to them to receive care. We are proud to say that the immediate network of all of our Chester County staff members are some of our most loyal patients. But the good news is that we treat each one of our clients with the same attention to detail and genuine client care that we extend to our own family members. When you're here, you'll know you're getting the best care any dental office in West Goshen PA could provide!
Book My Appointment
610-431-0600