Great Dentist Downingtown
Looking for a Great Dentist Downingtown Area Residents Trust?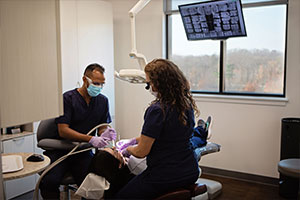 If you're in search of a wonderful dentist Downingtown residents trust, your search can end here at Chester County Family Dentistry. We know that there are a lot of potential offices you could choose for you and your family's dental needs, so we want to take a minute to tell you why you can be confident when you choose us!

At our office, we make it our priority to make each and every one of our patients feel as comfortable as possible during every visit. We want your visits to the dentist to be positive experiences that you can feel good about. Maintaining a regular schedule with your dental hygiene at home as well as with office visits is important when it comes to keeping your smile looking its best and keeping your entire mouth as clean and healthy as possible. We understand that coming to the dentist is not everyone's favorite outing, so we make it a goal to treat every one of our patients with respect and care and help you feel as comfortable as possible.

Our patients come from all over the region and we are proud to be able to say that this is a dentist Downingtown residents often recommend to friends and families. We gain a lot of new patients via word of mouth and are glad that our reputation precedes us. Our doctors, Dr. Montgomery and Dr. Dunn, truly love their work and are continually attending education seminars and meetings in order to stay totally up to date on the newest procedures, techniques, equipment and technologies in the dental field. They are serious about providing all of their patients with the best possible dental care available.

At this dentist in Downingtown, you can be sure you'll be well cared for! We understand how valuable your time is and make it a priority to begin and end appointments on time. We also do our very best to schedule appointments within a week of when you call and we will always see patients with emergencies the same day!
Book My Appointment
610-431-0600