Learn About the Best Dental Office West Chester, PA
CCFD in West Chester, PA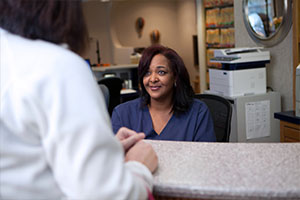 Chester County Family Dentistry is the best dental office West Chester, PA has to offer. The staff at this office take their jobs seriously, and are passionate about the service they provide. Two of the reasons that this practice is so popular are: The staff Treats every patient just like they would treat members of their own family all while providing a warm and welcoming. In fact, 99.3% of their current patients say they would recommend this practice to friends and family.

Drs. Montgomery and Dunn understand the importance of not only creating a comfortable environment for patients but providing the highest quality care available. For this reason, they are both continually staying updated with the latest methodologies, techniques and equipment available in the field of dentistry. This commitment to continued improvement has kept their office at the cutting edge of care since the very beginning. West Chester, PA's best dental office is fully equipped to serve you and your entire family well.

The staff of the best dental office West Chester, PA patients can hope to find is thoughtful, knowledgeable, friendly and extremely helpful. Everyone at the office makes it their priority to ensure each patient's satisfaction. This means that your questions and concerns will be handled professionally, fully and in a timely manner. Here is what one long time patient had to say about her most recent visit :
"It will always a great experience at Dr. Dave & Dr. Ryan's office! Everyone is so helpful!!" -Amy S. (patient at the practice since 2003)
Chester County Family Dentistry is proud of the reputation it has established and is eager to continue to serve its current and future patients well. Let us show you why we are the leading provider in the region! Scheduling your first appointment could not be easier. Simply contact us today. We would also be happy to speak with you about any specific questions or thoughts you may have.
Book My Appointment
610-431-0600