Dental Office Downingtown
The Dental Office Downingtown Families Love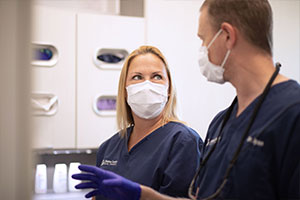 Are you searching for a great dental office downingtown residents recommend? Look no further than the Chester County Family Dental office conveniently located near Downingtown, right in neighboring West Chester. A short drive away, there awaits a family-focused professional practice with the latest technology and equipment. Our staff is committed to building and maintaining positive, comforting and professional relationships with our patients. When you choose Chester County Family Dentistry, you are choosing to be treated just like family! We know our patients by name and believe that the relationship between our patients and doctors is something special that should not be taken lightly.

At this dental office downingtown, you will find experience and skill that are unmatched in the industry. Our doctors are well educated and experienced. They keep themselves and their staff up to date with the latest technology and methods, but never forget the simple fundamentals of great dentistry and, of course, the importance of the client-dentist relationship. Our dental office near Downingtown is equipped with free wireless internet, comfortable waiting areas and abundant choices of music. Our staff will make sure you feel welcomed and at ease while you are here. All of the procedures you receive at our practice will be thoroughly explained to you because we believe that informed patients are happier and healthier patients. We know your smile matters to you and so it matters to us! In fact, getting your smile to reach its full potential is one of our major goals.

Do you experience anxiety over dental visits? No worries! We provide the choice of complimentary nitrous oxide to help our patients relax if necessary. Our friendly staff and wide array of music options are sure to help you be more at ease as well. We hope that your dentist experience with us is purely positive and satisfying. We look forward to hearing from you and seeing you in our dental office Downingtown very soon!
Book My Appointment
610-431-0600