West Chester's Best Dentist
4 Summertime Tips from West Chester's Best Dentist
School's officially out!

The kids are ready to drive you crazy. And you are filling up your calendar with fun activities for the family.
West Chester's best dentist has 4 great ideas to help you have a safe and healthy season.
According to the West Chester's best dentist, the very first thing to do before summer plans get underway is to schedule a family dental check-up. While this might not sound like the most exciting option, it will assure that everyone in the family is ready for the more fun parts of their time off.
A huge detail you can also focus on this summer includes all of the snacks you and your kids might eat. Nothing satisfies more than something crunchy, but you want to steer clear from pretzels and chips. Chip crumbs can get caught in your teeth, causing harmful bacteria build-up. Alternatively, crunchy fruits and veggies can actually help clean your teeth, along with adding helpful vitamins and hydration to you and your kids' diets.
The best dentist in West Chester PA also suggests that you use favorite fruit pieces to infuse your water. This gives you and the kids tasty, refreshing drinks that hydrate without the added chemicals and sugar found in sodas or other popular drinks.
Your final focus should be to intercept possible dental injuries. There are a couple of easy things you can do to head accidents off at the pass. Always remind the kids to walk instead of run around the pool. Also have mouth guards on hand for any contact sports being played. In case of injury, make sure you keep a dental emergency kit in the car. Include in this kit: your dentist's info, some gauze, a small sealed container, and pain reliever.
Ask the Experts
West Chester's Best Dentist For Summer Appointments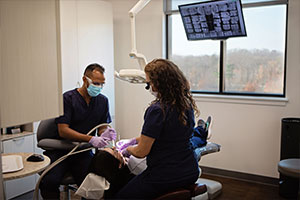 If you need a great family dentist 19380 for routine visits or emergencies, give Chester County Family Dentistry a call.
Book My Appointment
610-431-0600