Dental Comfort and Education West Chester, PA
Comfort and Education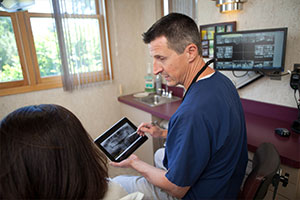 The fact that some people are afraid of the dentist isn't breaking news. But did you know that according to studies, 36% of people suffer from dental fear? Despite the dental problems that can arise and intensify by avoiding the dentist, some individuals remain steadfastly as far away from the dental chair as possible.

At Chester County Family Dentistry we make comfort and education a priority. Our goal is that by the time you leave our office, your fears have been diminished if not completely removed! Both Dr. David Montgomery and Dr. Ryan Dunn have decades of combined dental education and experience. Together, along with the entire CCFD family, we work collaboratively to provide the highest quality dental services, safety protocols, and comfort.
Get Started
Five Reasons People Experience Dental Anxiety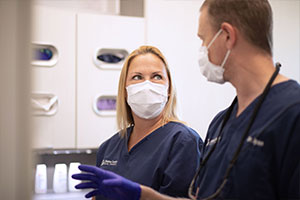 There is much more to dental anxiety than simply a generalized fear. According to studies, there are several factors that can contribute to dental anxiety. Take a look:
Pain Anxiety

Pain can be both real or imaginary. Whether it's associated with a major dental procedure, such as a root canal or tooth extraction, or mild discomfort from general teeth cleaning, the idea of pain can keep people away from the dentist. At CCFD, we do everything we can to assure minimal-to-no pain during your treatment. This means providing numbing agents, nitrous oxide and other combinations of medication and anesthetics to help keep you comfortable.

Fear From Past Visits

Let's face it—not all dentists are created equal! While it's certainly helpful to be in the care of a skilled and practiced dentist, sometimes a rough or rude bed-side-manner can be enough to create an unfavorable impression. And, even a first impression can be a lasting one. Our dentists, hygienists, and front-desk staff go out of our way to ensure you are treated with dignity, respect, and kindness. First impressions mean everything to CCFD!

Worry Over Cost

Sometimes fear can manifest from financial concerns. If a dental procedure could potentially be out of a reasonable price range, the impulse to avoid a visit is natural. Rather than conducting a further investigation regarding payment options, many will often avoid a dental visit altogether. We don't ever want cost to keep you from maintaining the best possible dental health and wellness. If this is one of your worries, we encourage you to speak with us about payment options.

Concern About Lack of Control

Any situation in which a medical professional intervenes to manage your health can cause a patient to feel vulnerable and out of control. Despite the fact that doctors and dentists are ultimately people themselves and providing a service or treatment to better your health, a feeling of helplessness can be a natural occurrence. At CCFD, our mission is to provide patient-centered care founded upon strong and trusting relationships. This helps instill confidence in our patients and let them know their best interest is a priority — both physically and emotionally!

Judgment From the Dentist

Many people have been known to say that they don't care about what people think about them, but when it comes to visiting the dentist, it turns out they do! Research demonstrates that some people avoid dental visits for fear of hygienists and dentists judging them for the perceived negative state of their dental health. It's not a dentist's or hygienist's job to judge you — only to empower you with the best dental hygiene and practices available. That's the kind of comfort and care you can look forward to at CCFD, not judgment!
Ask the Experts
What Comfort and Education to Quell Anxiety Looks Like With CCFD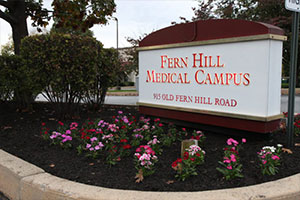 No matter what has you fearful of visiting the dentist, CCFD offers several dental anxiety treatment options to help maximize patient comfort. These include:
Free and Plentiful Nitrous Oxide
Satellite Radio
Patient Education Multimedia
Streaming Music Services
Wireless Internet Access
We encourage our patients to always speak up when it comes to their safety, comfort, and concerns! Sometimes simply sharing your fears with Dr. Montgomery, Dr. Dunn, or one of our friendly and experienced hygienists can help assuage worries. We strive to devise personalized solutions for each and every patient to get the most out of a dental visit.
If you're ready to face your fears and experience a gentle dental procedure from seasoned experts, schedule an appointment now. Or, give us a call any time to set up a tour or ask questions about any of our dental services.
Book My Appointment
610-431-0600