Most Trusted Dentist Office Exton PA
You'll Be Smiling With The Most Trusted Dentist Office Exton PA!
At Chester County Family Dentistry, we don't aim for average. We aim to be the best. That is why we are the most trusted dentist office Exton PA has to offer.

We offer state-of-the-line technology while maintaining a down-home atmosphere that makes you feel comfortable and well taken care of. Don't believe us? Just ask our patients!
"When my family and I come in for our check-ups, it is like visiting with old friends. This is no regular dentist office."
"I am overwhelmed with happiness when I think of the kindness, understanding and professionalism Dr. Dave has shown to my four-year-old daughter…Now when I tell her that she has a dentist appointment, she no longer cries. Instead, she says, 'Great! I can't wait to see Dr. Dave!'"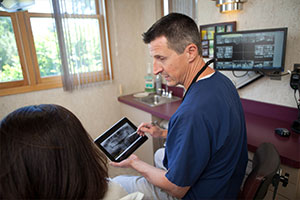 The dentist office doesn't have to be a scary place, or even a boring place! We have created an atmosphere that puts anyone at ease, from children to the elderly. In order to create this atmosphere, we use relaxation tools like music and patient multimedia. We also provide wireless internet access for your convenience. Don't let a dentist appointment slow you down from your life!

For patients that struggle to remain calm at the dentist, even in our calming atmosphere, we do offer nitrous oxide. This odorless gas is administered through a mask, and will calm your nerves before your procedure. There are no adverse side effects, and you will be back to your normal self in no time!

To schedule an appointment with Chester County Family Dentistry, the most trusted dentist office Exton PA, contact us today. We would be happy to work with every member of your family, and will do all we can to make sure you feel comfortable and confident in your dental health care provider! Set up an appointment today!
Book My Appointment
610-431-0600