Downingtown Dentistry for Oral Health
Maintain Oral and Overall Health with Downingtown Dentistry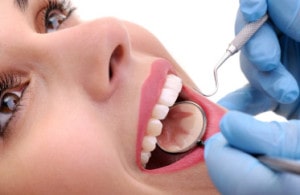 How long has it been since your last dental appointment? Six months? A year? Several years? Regular dental check ups and cleanings are recommended on a bi-annual basis, and for good reason. Good oral health affects not just your smile, but your overall health and sense of well-being. Chester County Family Dentistry offers experienced and friendly care for all your Downingtown dentistry needs.
Get Started
Top 8 Reasons to Visit your Dentist in Downingtown
Maintain oral health and support your overall health and wellbeing

Oral health is about so much more than a sparkling smile. Regular dental visits decrease the risk of other health problems as the health of the circulatory, digestive, reproductive, and respiratory systems are all connected to oral health.

Bad Breath

Bad breath, or halitosis, though often cause by food particles, dry mouth, or tobacco use, can also be a sign of a more serious health problem. Liver or kidney function, diabetes, chronic bronchitis, and sinusitis can all cause chronic bad breath. Through regular visits, Downingtown dentistry can help identify these health problems early on.

Correct Wear and Tear

Dentistry in Downingtown can repair years of damage. Older adults in particular suffer from plaque build-up and gum disease, tooth decay, and tooth root damage/decay. Regular visits to your Downingtown dentists can help to prevent and correct these issues.

Maintain A Beautiful Smile

Keep your smile sparkling with regular cleanings to remove plaque in hard-to-reach places.

Prevent Tooth Loss

Bi-yearly visits for cleanings, fluoride treatments, and exams can help prevent tooth loss.

Prevent Periodontal Disease

Periodontal disease is an infection in the tissue that support your teeth. Gingivitis is a milder, more treatable form of gum disease. Bleeding gums, chronic bad breath,and red, swollen or tender gums are all signs of gum diesease, though sometimes gum diesead exhibits no visible symptoms. Through regular visits, your Downingtown general dentistry experts can help diagnose and treat, or even help prevent, the development of gum disease.

Bleeding Gums

Do you see blood on your toothbrush or in the sink when you brush your teeth? Bleeding gums is a sign that you should visit your Downingtown dental experts soon. While bleeding gums may be a sign of improper brushing, it can also be a sign of gum disease or a more serious condition.

Self-Esteem and Confidence

Your smile is your most important feature. It's what makes a great first impression. A good and healthy smile gives you to boost you need to feel confident about yourself!
At Chester County Family Dentistry, we understand the importance of oral health and a healthy smile. We look forward to meeting your Downingtown dental needs.
Whether it's been 6 months or six years since your last dental visit, schedule your next appointment today.
Book My Appointment
610-431-0600