Five Reasons Dental Patients Love CCFD as an Alternative to a Dentist in Paoli
If you've been searching for a Paoli family dentist only to come up empty-handed, try looking next door! Chester County Family Dentistry may be exactly what you're looking for. When patients need the best dentist Paoli has to offer, they turn their attention to the expertise of Dr. David Montgomery and Dr. Ryan Dunn. With decades of combined dental education and experience in the latest approaches and techniques in dentistry, our CCFD dentists and staff are able to offer dental care to accommodate the entire family.
Get Started
Looking for the Best Dentist Paoli Residents Trust? Look Next Door to CCFD!
A close 10 miles from Paoli, CCFD provides residents with two of the top dentists in the Philadelphia and Paoli regions. Chester County Family Dentistry offers top-quality dental services to clients in Paoli, Exton, Downingtown, and other surrounding areas. We provide kind and gentle dental care at an affordable price.

One of our top priorities is flexibility. We offer dental appointments throughout the week and on Saturdays. We even provide opportunities to visit our office before and after regular work hours on certain days. And, since busy schedules are normal for most families, we'll work to fit as many family members on the same day whenever possible—without sacrificing our thorough nature.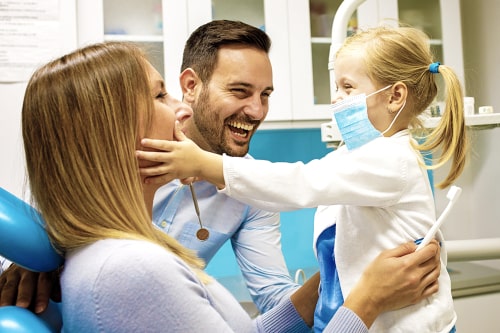 Take a look at five more major benefits of becoming a CCFD dental patient:
Innovative Technology and Tools

To ensure a comprehensive view of the mouth, teeth, gums, and jaw, Dr. Montgomery and Dr. Dunn utilize advanced digital x-rays. We use the latest, innovative dental technology and tools to ensure that our patients receive highly effective and safe dental treatments.

Family-Friendly Atmosphere

There is something for each member of the family at CCFD. We offer patients of all ages satellite radio, music-streaming choices, and wireless internet access. If parents, children, or grandparents experience anxiety and/or discomfort while in the dental chair, we provide complimentary nitrous oxide to help put them at ease during their treatment.

Cosmetic Dentistry

Our Paoli dental patients appreciate the vast cosmetic dentistry options offered at CCFD. We provide dental implants, early and adult orthodontics, inlays and onlays, veneers, bonding procedures, and more. These options help our clients achieve the smile they've always dreamed of!

Teeth Whitening

At CCFD, our dental patients love the flexibility that comes with the Opalescence™ teeth whitening systems. Professional teeth-whitening includes both in-office and take-home options.

Mercury-Free Dentistry

Certain levels of mercury have been established as harmful to the human body. Dr. Montgomery and Dr. Dunn are committed to ensuring that every member of the family remains protected from mercury poisoning. In addition to the appropriate removal and disposal of amalgam fillings (containing mercury), CCFD uses safe composite fillings that closely resemble the look and feel of your natural teeth.
This is simply a sampling of what we have to offer at CCFD. Part of what sets us apart from other area dentistries is our diverse menu of dental services.

Take a look at what one of our clients has to say about her experience with CCFD:
"We moved 1 1/2 years ago and switched dentists to someone locally. We made the decision to return to Dr. Dave and his wonderful staff. The drive is well worth the care and treatment we receive!" — Cheryl H.
Ask the Experts
CCFD Can Be Your Choice of Dentistry!
Finding a good dentist can be difficult, but it doesn't have to. If you've been skipping your regular dentist appointments, don't wait any longer. Schedule a routine checkup and cleaning with the best dentist Paoli locals trust.

Contact our office to find out more about our services, financing options, and to schedule an appointment. You can reach one of our friendly, professional CCFD team members using the buttons below!
Book My Appointment
610-431-0600