Dentistry Office near Exton, PA
A Dentistry Exton Office You Can Feel Comfortable In
Are you new to the Chester County area? Have you been searching for a new dentist where you and your kids can really feel safe and comfortable? Do you wish you could look forward to kind and friendly connection with each dental appointment? Are you on the look out for a dentistry Exton office that is convenient and compassionate? If you can answer yes to any of these questions, it sounds as though you may be looking for Chester County Family Dentistry. Families like yours throughout the Chester County area have found a home at this dentistry Exton office.

Dentistry_Exton_OfficeAt Chester County Family Dentistry, you will find a community which values the doctor-patient relationship as much as you do. We understand that you place your trust in us to provide excellent, caring service not only for you but also for your family members. So, we make every effort to provide timely services using the latest techniques in a compassionate way. A part of this effort includes providing education to you and your family about the best home care techniques as well as your options for in-office services. We find that these practices help to make even the most nervous patients more comfortable.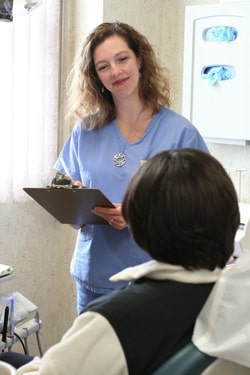 At our conveniently located practice, you will find access to a full range of excellent services in the same comfortable location. Some of our common procedures include:
All-Ceramic Crowns
Bonding
Cosmetic Care
Dental Implants
Digital X-Rays
Porcelain Veneers
Teeth Whitening
And more!
In addition to these restorative services, we also prove state-of-the-art preventive and diagnostic care. And if you find yourself in a painful dental emergency, we will make every effort to see you as soon as possible.

Does this sound like the dentistry Exton office you have been looking for? If so, you can begin a conversation with our practice today by calling us
Dentistry Exton Office | Dentistry Exton Offices
Book My Appointment
610-431-0600